This applies to any 'supercheap' hosting company, not just Hostgator or Bluehost - you are throwing away money every day if you do - more on that in a moment, with compelling proof...

Over the years, I've probably dealt with almost every hosting company in the world and most of them share a common trait: they suck, but usually for different reasons.

In 2013, I decided that enough was enough and started my own (Money Site) hosting company, Traffic Planet Hosting and in this argument to the jury, I'm going to outline the case as to why you should NEVER EVER again use Hostgator/Bluehost type hosting for your Money Sites and should consider Traffic Planet Hosting for hosting those assets (NOTE: Traffic Planet Hosting is NOT in any way a multi-IP SEO hosting company, it's ONLY for Money Site type hosting).

Even if Google were not taking page load speed into account for rankings at all, what kind of user experience do you want your Money Sites to offer? And is any visitor converting after waiting 20-30 seconds for a page to load on cheap, basic hosting?
The reality of cheap hosting: more traffic = painfully slow page loads
(e.g. 20-30 seconds to load a page, see loadimpact.com hosting stress tests below)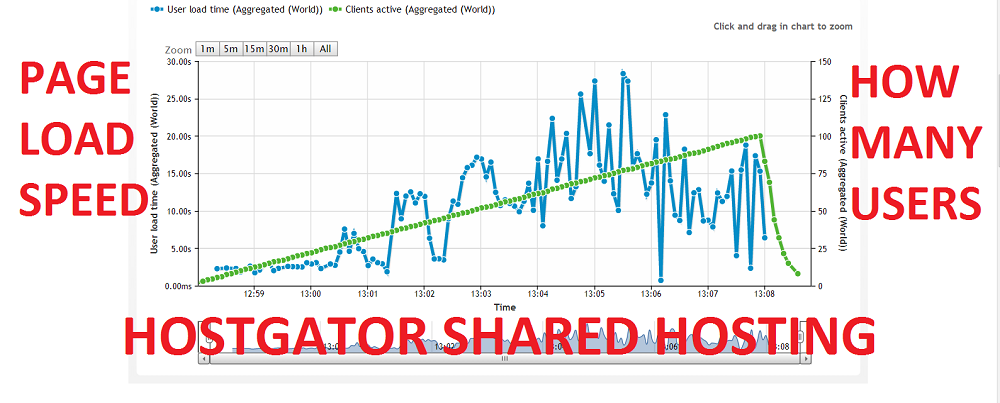 With normal Hostgator hosting, your Money Site will have multiple users waiting 25-30 seconds for a page to load - that's disastrous for conversions and user experience!
(Full testing methodology explained below)
And will you even realize that happened with your Money Site traffic?
See results for yourself at:
http://loadimpact.com/load-test/speedtesthgatorcom.com-a4cd69c0baae9d01c894b097eae99f68

Exactly the same site tested on Bluehost:





At worst here, visitors to this Bluehost-hosted Money Site are waiting 15-20 seconds for a page to load - also a conversion killer.
See results for yourself at:
http://loadimpact.com/load-test/speedtestbluehcom.com-7d851c054ae60525626f218fa101201c

And again the exact same site on Traffic Planet Hosting: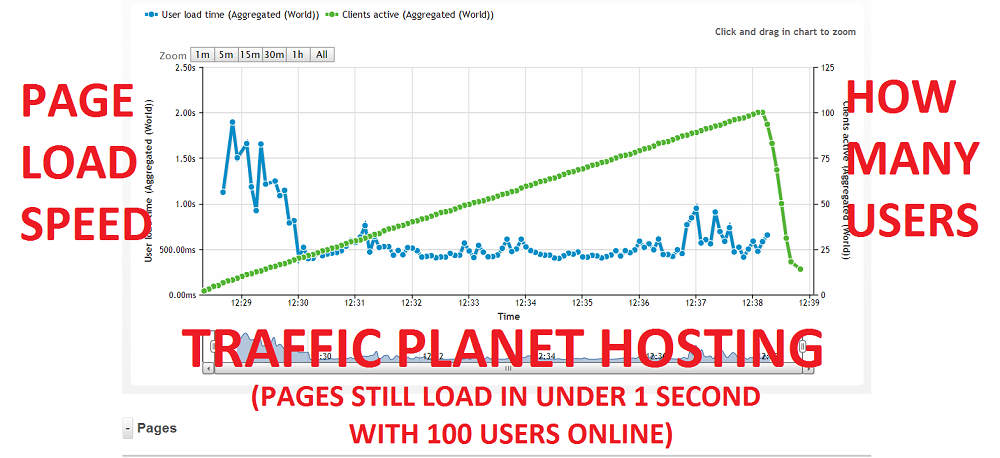 Even with 100 users online at once (exactly the same site as that above on HG and BH), pages load in under 1 second and
never more than 2 seconds during the whole loadimpact.com stress test - see results for yourself at:
http://loadimpact.com/load-test/speedtesttrafficplanethosting.com-9f56210fbfa9d273b6e75ebcbc3e8317

and the Pingdom tools score for that same site on Traffic Planet Hosting: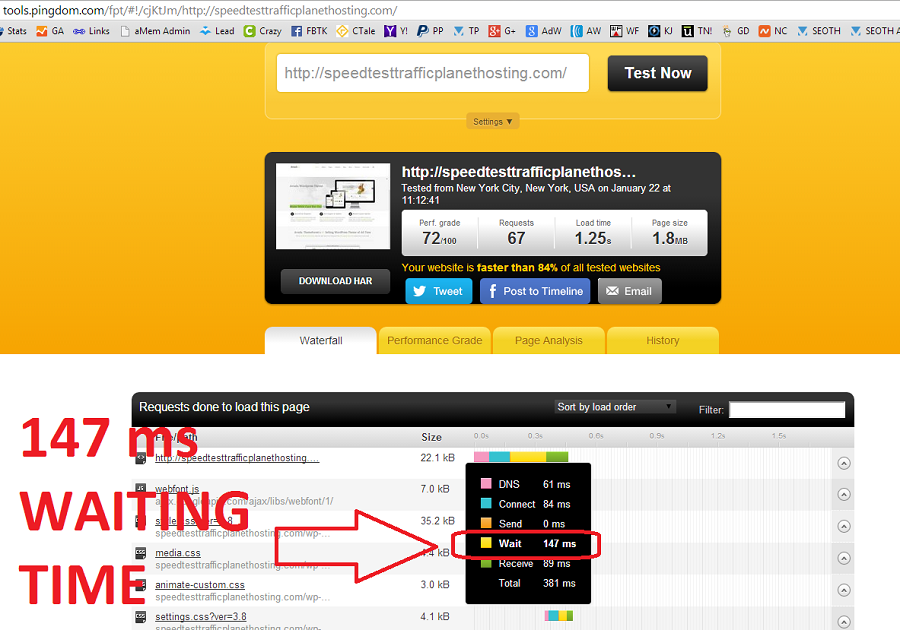 http://tools.pingdom.com/fpt/#!/cjKtJm/http://speedtesttrafficplanethosting.com/

1.25 seconds to load the page and 147 milliseconds waiting time which is pretty quick - full speed test further below - but Pingdom
isn't checking performance when multiple users visit the same site at the same time like loadimpact.com (you may need to rerun Pingdom tests a few times to get accurate results).

By the way, here's the Pingdom score for my blog at seotraffichacks.com hosted on Traffic Planet Hosting which has 17 active plugins going (plugins can slow down performance a lot):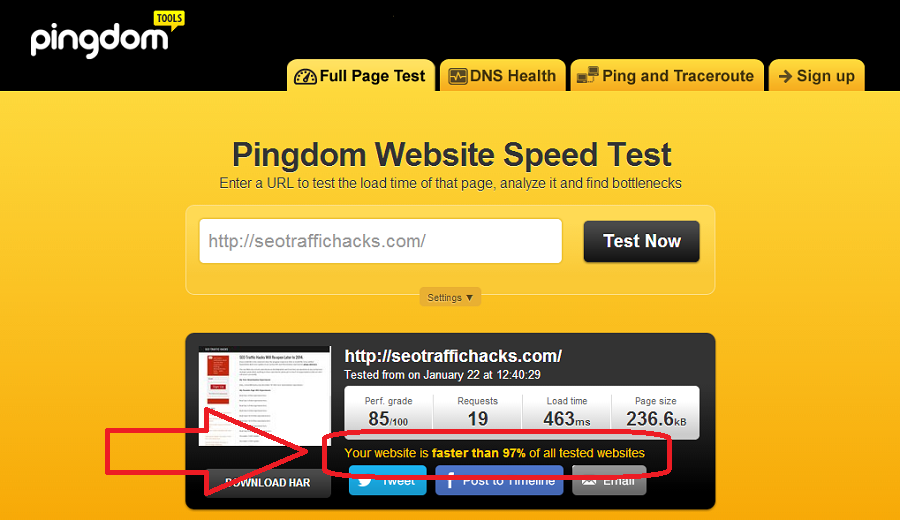 http://tools.pingdom.com/fpt/#!/cWOlsx/http://seotraffichacks.com/



And as far back as 2010, Google was already factoring site speed into rankings: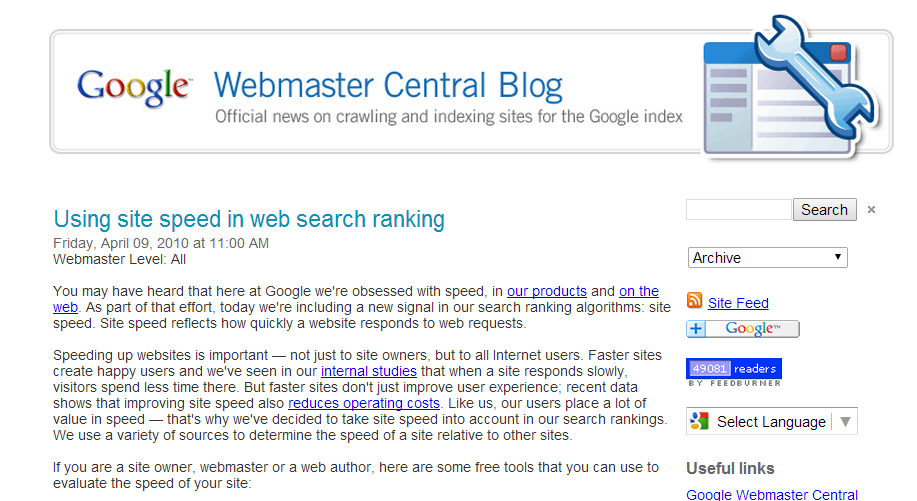 http://googlewebmastercentral.blogspot.com/2010/04/using-site-speed-in-web-search-ranking.html
and the impact of slow speed on your conversions: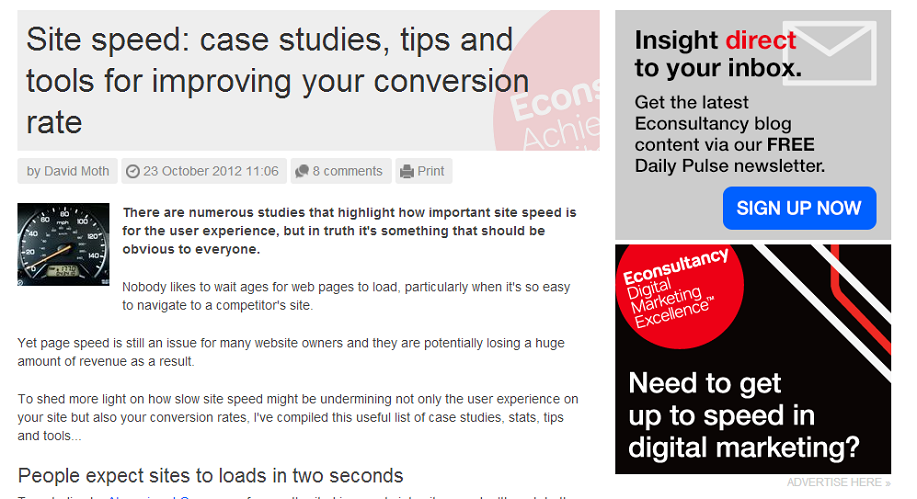 http://econsultancy.com/blog/10936-site-speed-case-studies-tips-and-tools-for-improving-your-conversion-rate
and what one new Traffic Planeteer had to say about switching over to Traffic Planet Hosting:

http://trafficplanet.com/index.php?/topic/7971-why-you-should-never-ever-use-these-hosting-companies-for-money-sites-part-1/#entry91610
If you have Money Sites that you value, promote, use email marketing on and SEO that are hosted on normal cheap hosting, I strongly urge you to check your site/s performance with multiple users at the same time over on http://loadimpact.com/ now (it's free but you need to register there).

Even if your rankings aren't amazing for some of your Money Sites, what if you email your list to visit a new offer on your site - will they be waiting up to 30 seconds for pages to load (would you wait?).

Nothing will destroy potential conversions and frustrate site visitors from your latest email promotion more than pages that take 20-30 seconds to load.

But how does Traffic Planet Hosting stack up on other factors against companies like Bluehost and Hostgator AND good hosting companies that charge more?

Traffic Planet Hosting has 4 main objectives:

1. To give users the fastest & easiest possible instant access to all of the functions of their hosting and domain account backed by fast support, when required
2. To ensure consistently very fast page load speed, especially under heavy traffic loads
3. To make it as difficult as possible for sites hosted with us to be 'hackable' by offering the best available security
4. To offer great value for money on superior hosting

In short, we're striving to be the 'LeadPages' of Hosting with constant smart innovation and service delivery.
So when it comes to hosting, I look for those four things:

1. EASY/FAST TO USE: How easy and fast is it to set up site hosting and the usual associated tasks (creating email addresses, forwarding emails, 301 redirects etc)?

2. SITE SPEED: Is the page load performance acceptable? I don't just mean raw millisecond page load speed but waiting time and stress testing of multiple simultaneous users (cheap hosting means that more traffic causes crazy slow page load speed or sites go offline completely - see the speed and stress tests below):

3. VALUE: Is it value for money?

4. SUPPORT: Is the support any good?

In this comparison of WordPress-optimized hosting services (what TPH is set up for), the new kid on the block, Traffic Planet Hosting (US-based hosting only at the moment), will go into the wrestling ring against established players like WPEngine.com, Websynthesis.com (from the Copyblogger crew), Bluehost (not a recognized WP optimized hosting company) and Hostgator (also not promoting itself as a 'WP optimized' hosting company).





Also, on any of the above companies' hosting accounts, including Traffic Planet Hosting, you can host any type of site there: HTML, Magento etc but the main focus here will be on WordPress.
How are you testing the hosting Terry?

To FAIRLY compare the performance of these five hosting companies on these 4 criteria, I have set up a default installation of Avada, the bestselling WP theme from themeforest.net, with Avada's sample content, identically across all five services using WP 3.8 (the latest WP version) - Avada is famously UNoptimized so it's a good test for any hosting service: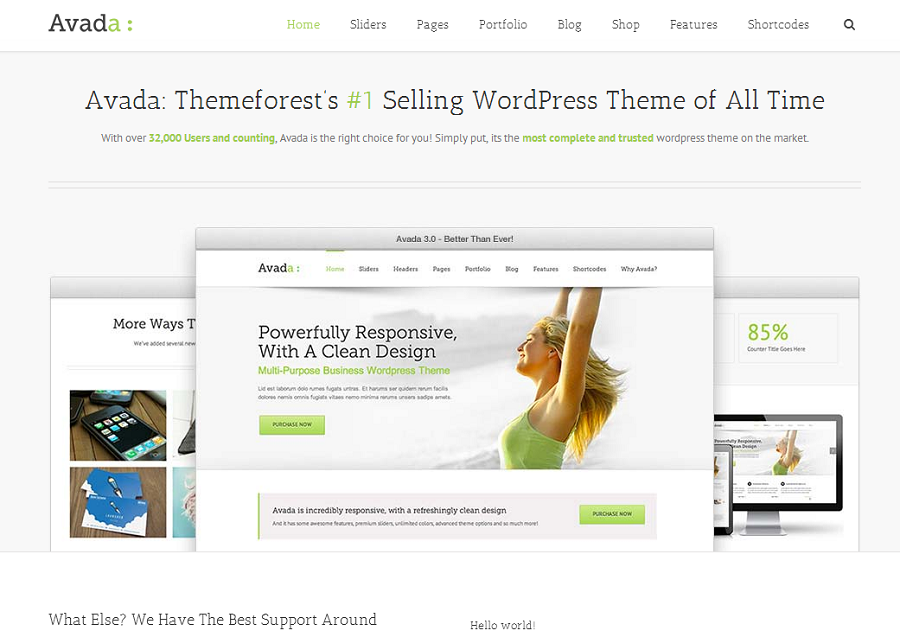 No plugins have been added on the 5 test sites EXCEPT Fusion Core and Revolution Slider which are essential for Avada to function (plugins and elements like Google Fonts - which Avada IS using here by default - can seriously slow down site performance, even though they are very useful to have):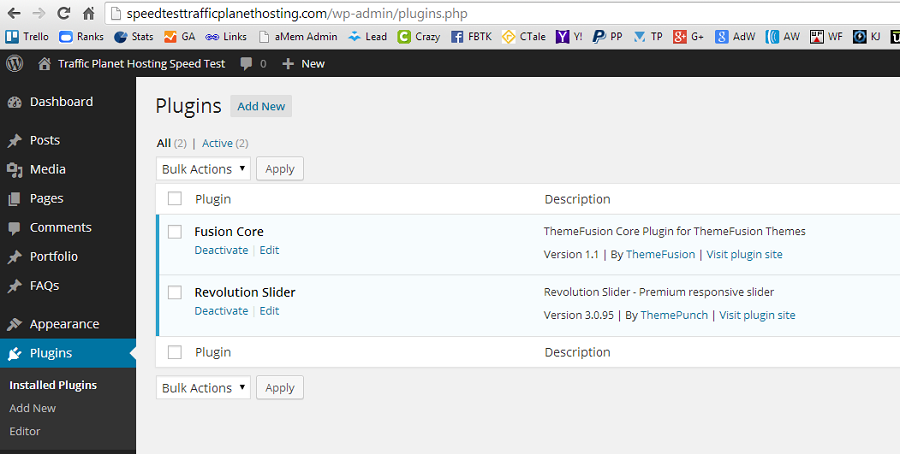 If any representative from the above hosting companies wishes to inspect the test site hosted on their service (I welcome them to), they will see that this test is as fair as possible and no installation of Avada is any different to the other contenders here.

Performance-wise, I have used the stress test function (multiple users on a site a once) on loadimpact.com and the tools function at Pingdom.com to independently analyze the performance of each hosting company (remember, all plugins except those required for Avada have been completely removed from all 5 WP installations).

Here I am comparing a 'Business Plan' package ($24.99 monthly for up to 5 websites) on Traffic Planet Hosting: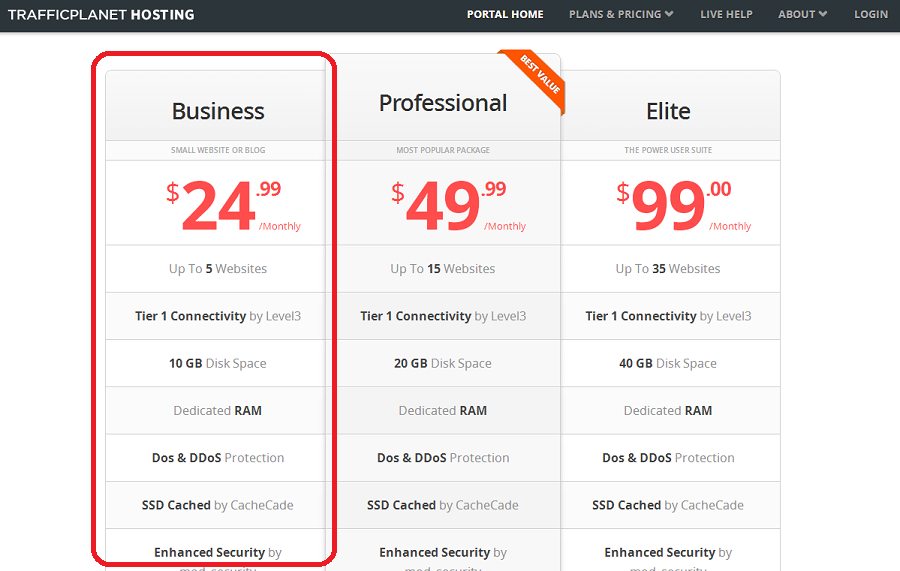 against a 'Personal Plan' on wpengine.com ($29 monthly for 1 website):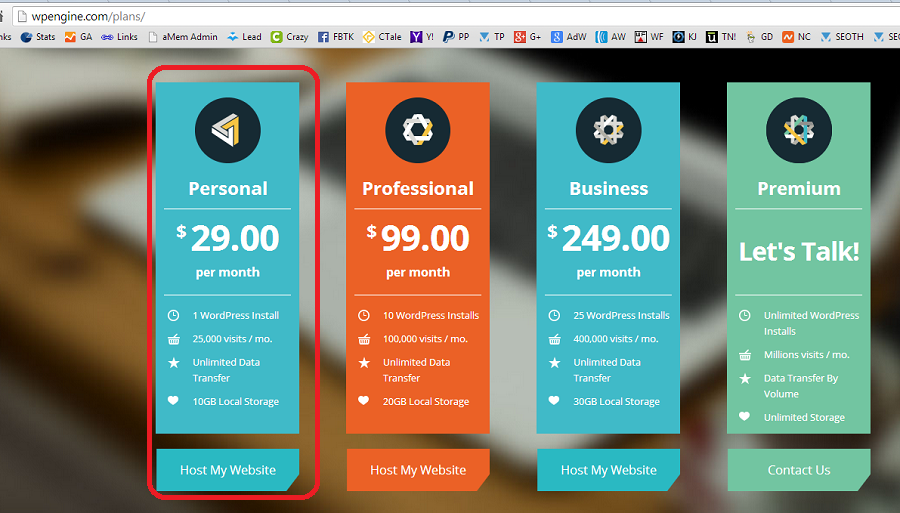 a 'Starter Plan' on websynthesis.com ($27 monthly for 1 website):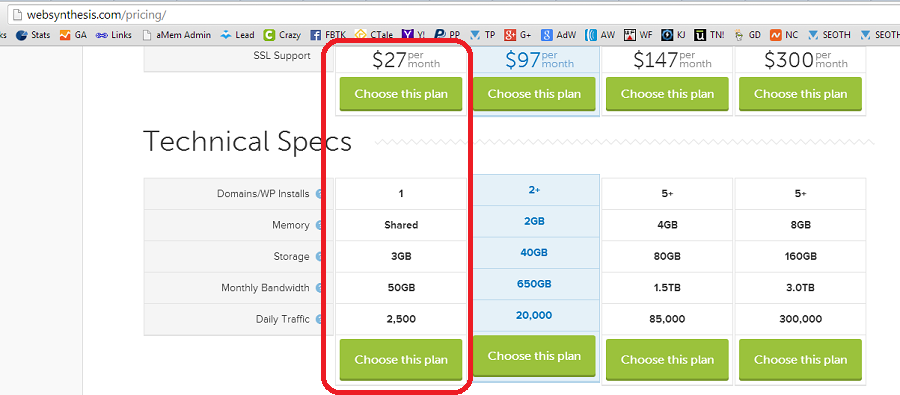 a 'Standard Plan' on Bluehost ($5.95 a month but not much of a bargain when it destroys your conversions):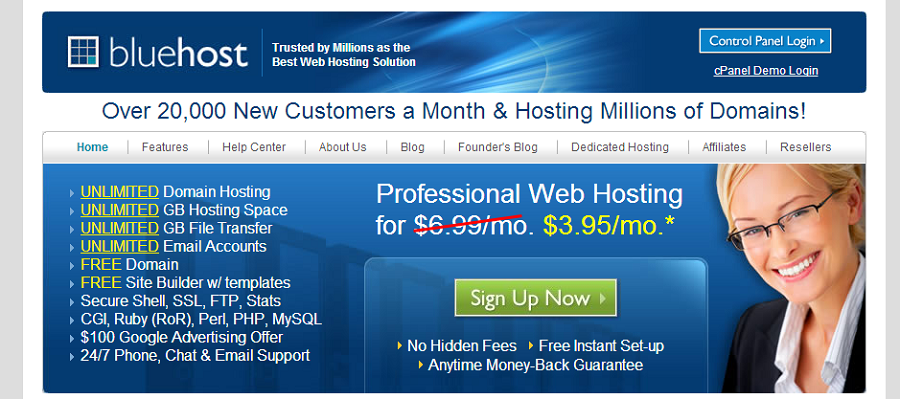 and a standard Reseller Setup on Hostgator ($24.95 monthly):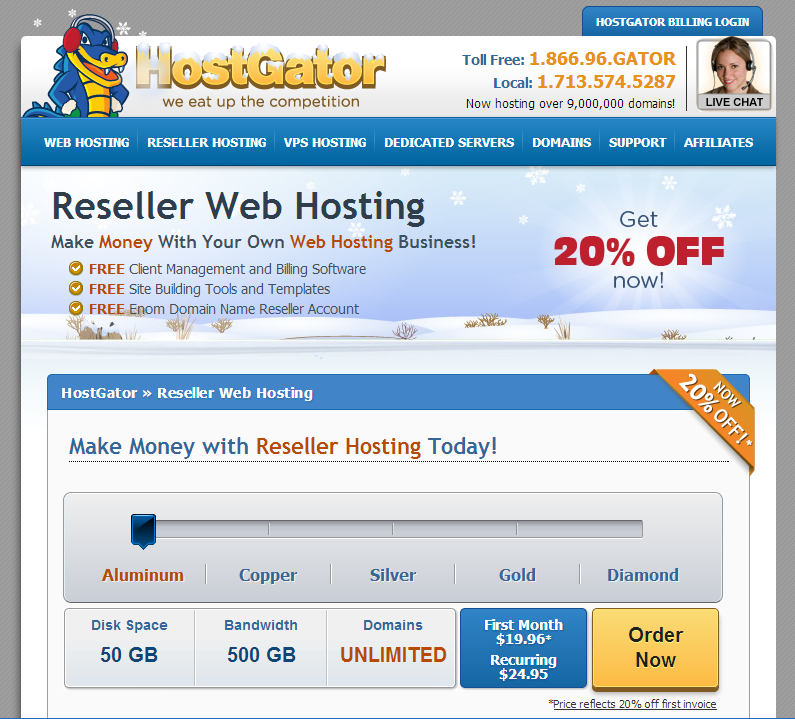 For this comparison, these domains were registered and hosted at each of the respective services:

http://speedtesttrafficplanethosting.com/ (Traffic Planet Hosting)

http://www.speedtestwpeng.com/ (WP Engine)

http://speedtestwebsynth.com/ (Websynthesis)

http://speedtestbluehcom.com/ (Bluehost)

http://speedtesthgatorcom.com/ (Hostgator)

Test 1: How easy and fast is it to set up site hosting and the associated tasks on each service?

Traffic Planet Hosting has a bespoke admin panel where you can install WordPress on a new domain in under 2 minutes (see video below) and get your site live fast (Site Migration takes longer with any hosting company, more on that shortly):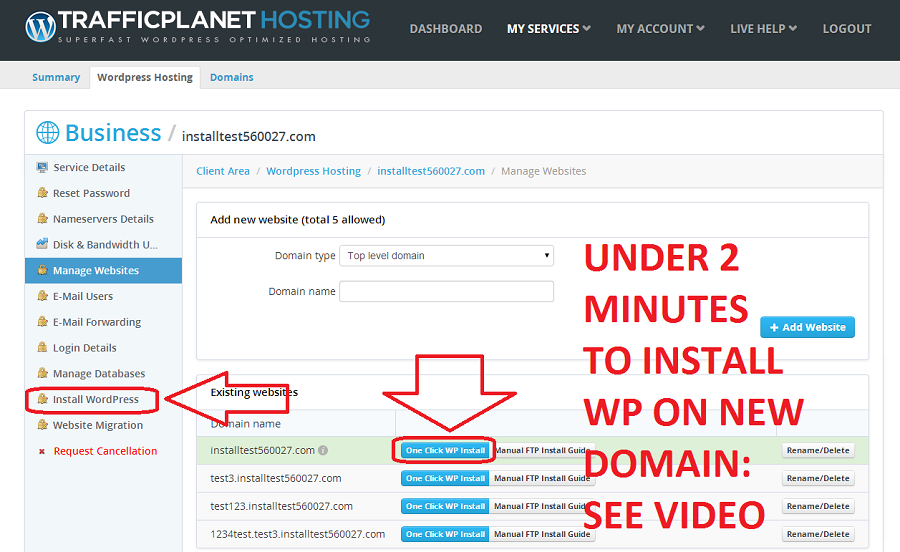 Bluehost and Hostgator both use cPanel so it's straightforward there too: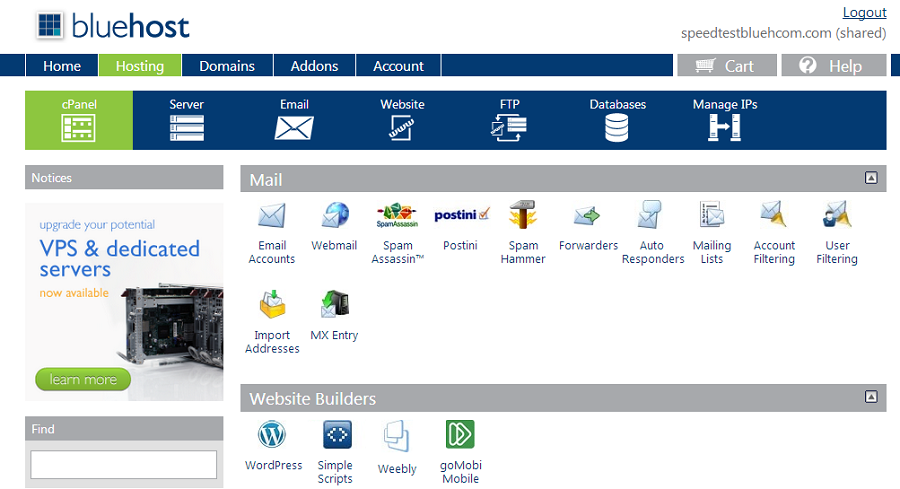 However, neither wpengine.com or websynthesis.com offer any kind of wizard for WP installation for their lower level services (Websynthesis doesn't even have a Control Panel to speak of and a support ticket must be raised to do any basic functions) - here's what you get in Websynthesis: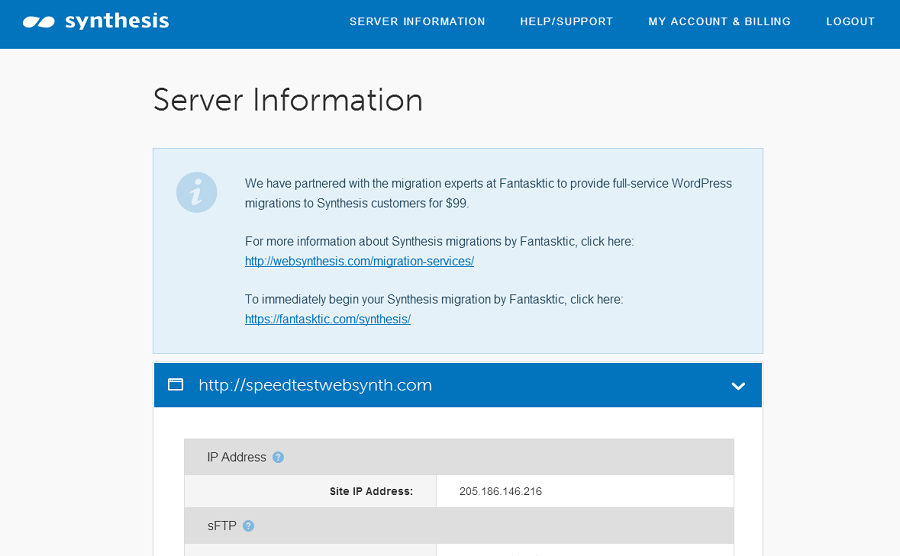 and in WPEngine: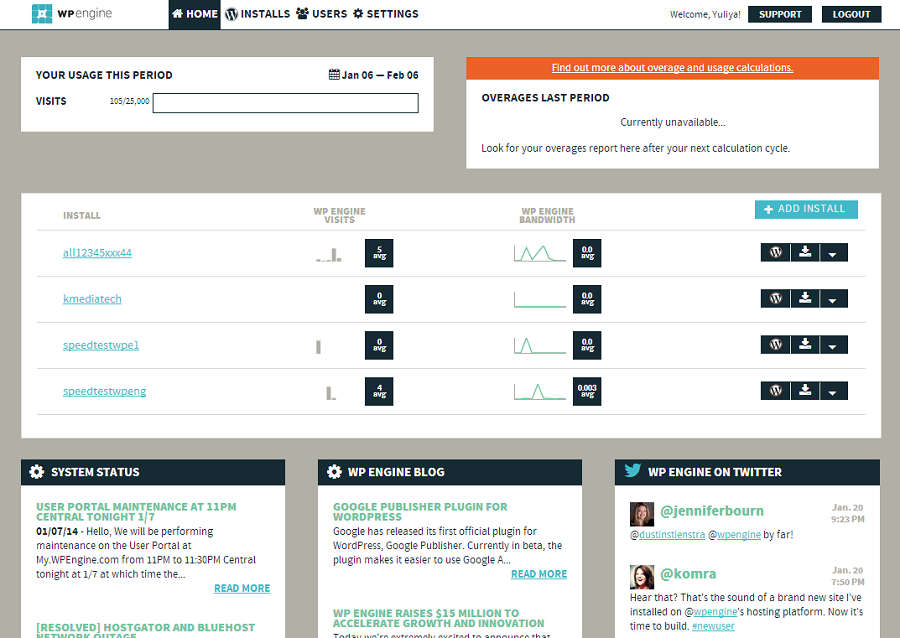 WP Install above is NOT a 1-click wizard but just a step in the process of their support team setting up your site via a ticket. WPEngine DO offer the ability for users to install WP themselves BUT only if you are on the $99 monthly plan or higher: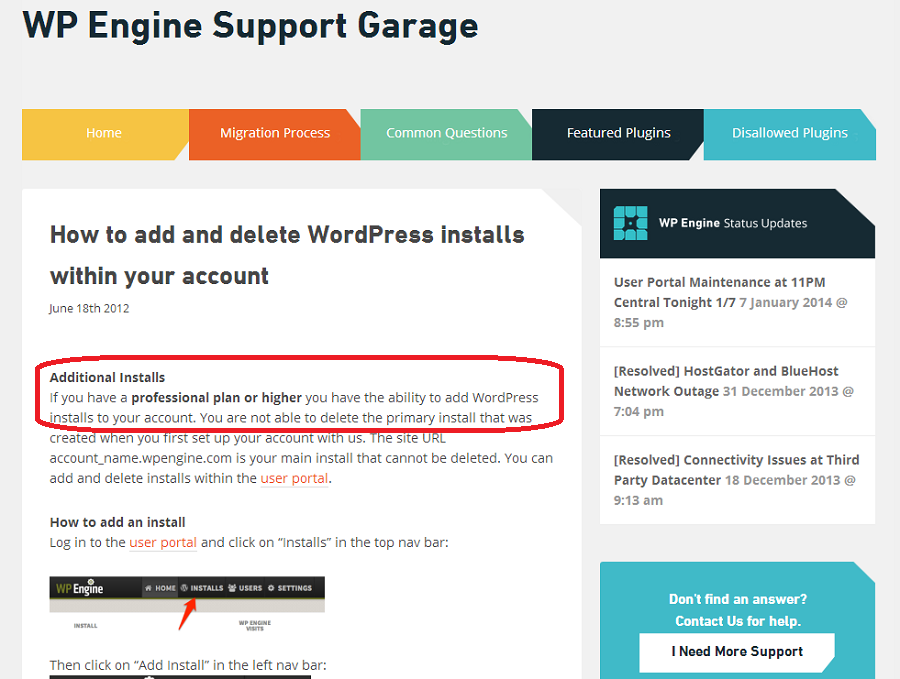 and in Websynthesis - a functionLESS Control Panel: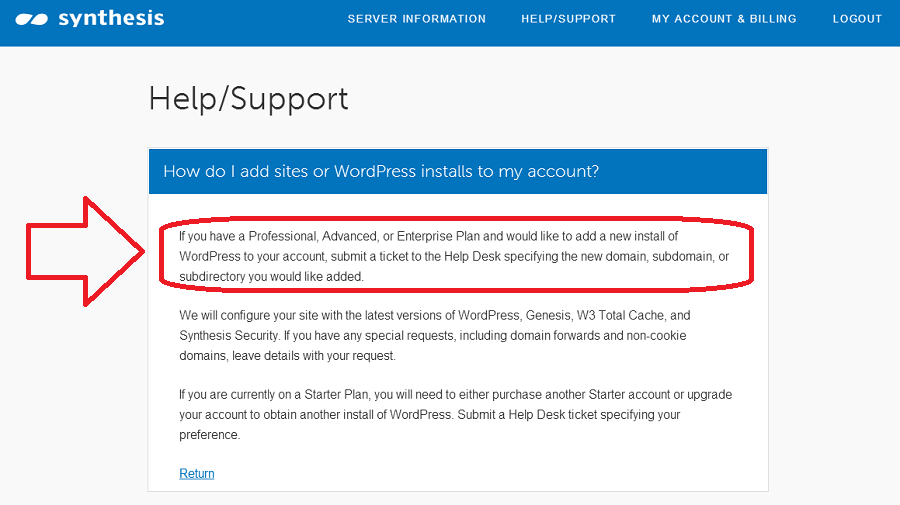 Yes, these WP-optimized hosting companies don't have any kind of wizard or script for fast WP installation and you have to wait for their support team to get back to you (unless on the $99+ monthly plan with WPEngine).

Plus WPEngine and Websynthesis do NOT offer email accounts with your hosting. At all: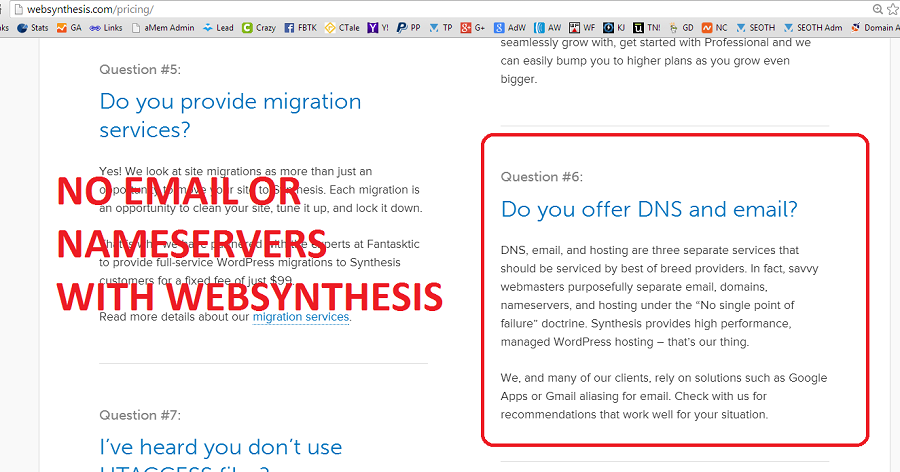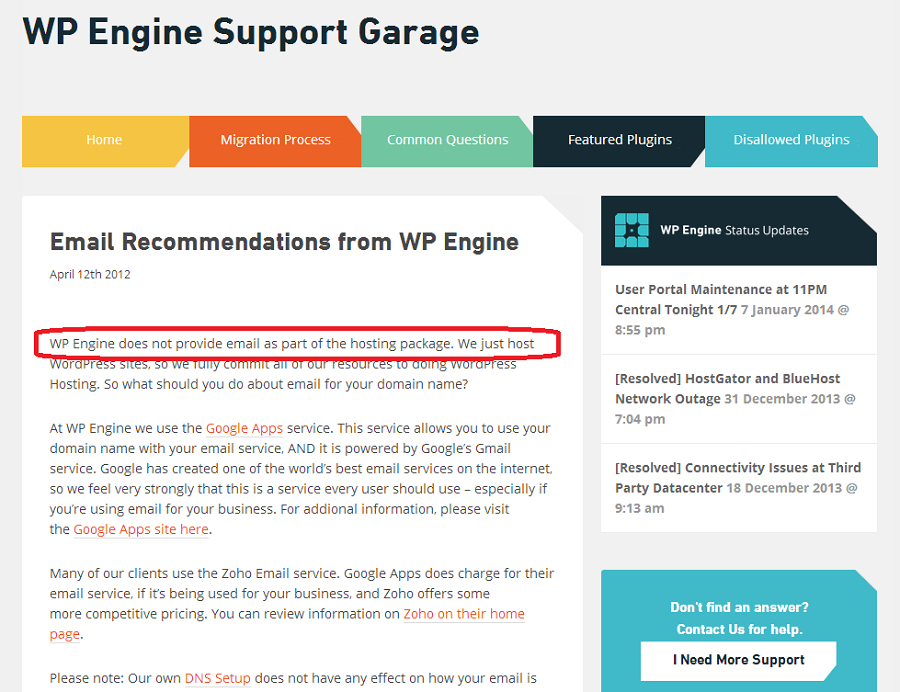 In comparison, you can setup email accounts and email forwarding instantly on Traffic Planet Hosting without support tickets or an external service: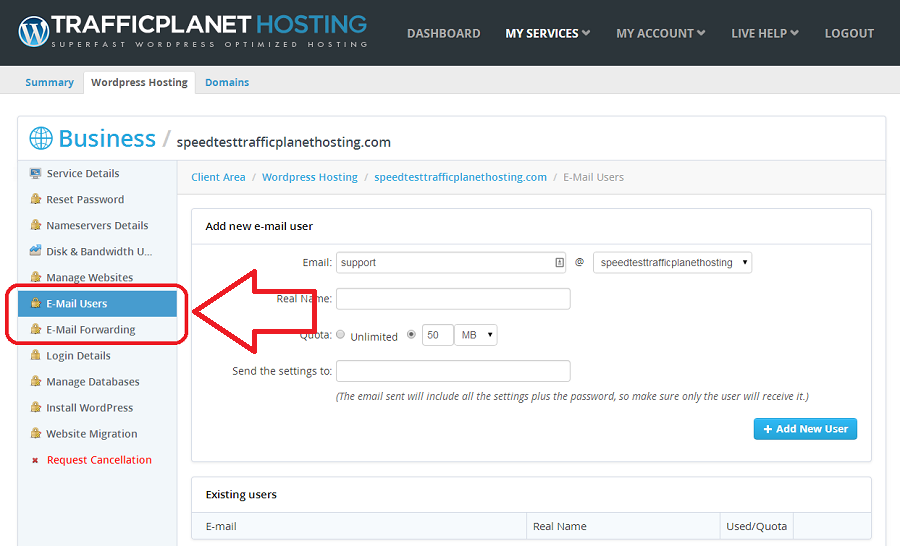 So with WPEngine and Websynthesis, if you want email (not an option), an external service, possibly paid, is required and something like a 301 redirect also requires a support ticket. Bear in mind that cheapies like Bluehost and Hostgator do offer free email setup (instantly by the site owner) and 301 redirection but if you want that with Websynthesis or WPEngine , prepare for a wait or look elsewhere.

And, because Traffic Planet Hosting is a fully integrated domain registrar too, you can save your hosting slot/s by doing the 301 at the domain level (not your hosting account) in your Admin Panel without a support ticket: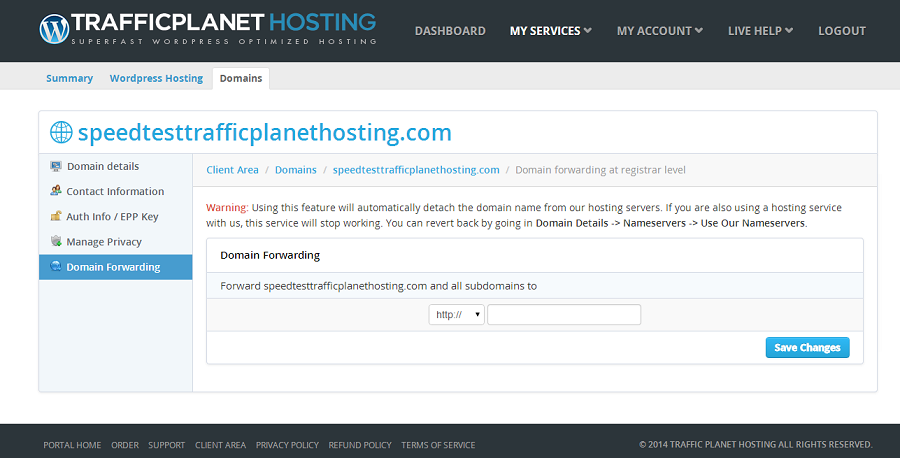 On the usability front, another gotcha from wpengine.com is their list of forbidden plugins (which you find out after you subscribe):

adminer, async-google-analytics, backupwordpress, backwpup, broken-link-checker, contextual-related-posts, dynamic-related-posts, ezpz-one-click-backup, file-commander, fuzzy-seo-booster, google-sitemap-generator, google-xml-sitemaps-with-multisite-support, hcs.php, hello.php, jr-referrer, missed-schedule, no-revisions, ozh-who-sees-ads, portable-phpmyadmin, quick-cache, seo-alrp, similar-posts, superslider, text-passwords, the-codetree-backup, toolspack, tweet-blender, w3-total-cache, wordpress-gzip-compression, wordpress related posts, wp-cache, wp-database-optimizer, wp-db-backup, wp-dbmanager, wp-engine-snapshot, wp-file-cache, wp-mailinglist, wp-missed-schedule, wp-phpmyadmin, wp-postviews, wp-slimstat, wp-super-cache, wp-symposium-alerts, wponlinebackup, yet-another-featured-posts-plugin, yet-another-related-posts-plugin

Yes plugins can cause issues and conflicts and it's advisable to not overdo it but wpengine.com pretty much bans anything that can make a WP site more marketing-optimized:

So to recap on easy and fast usability: Traffic Planet Hosting, Bluehost and Hostgator offer instant WP installation, instant email creation and forwarding setup and instant 301 redirection setup. With WPEngine and Websynthesis, they do not offer email at all and all installations or changes require a support ticket.

Also, if you need help migrating your site from your old hosting company, Traffic Planet Hosting offers that for free (within 24 hours, Monday-Friday usually), WPEngine charges $49 and Websynthesis $99 though all of those other companies have knowledgebase articles on doing it yourself.

And WPEngine and Websynthesis do NOT use conventional nameservers so you can't just change your nameserver details at your domain registrar, you have to go through a support ticket process - remember this from Websynthesis: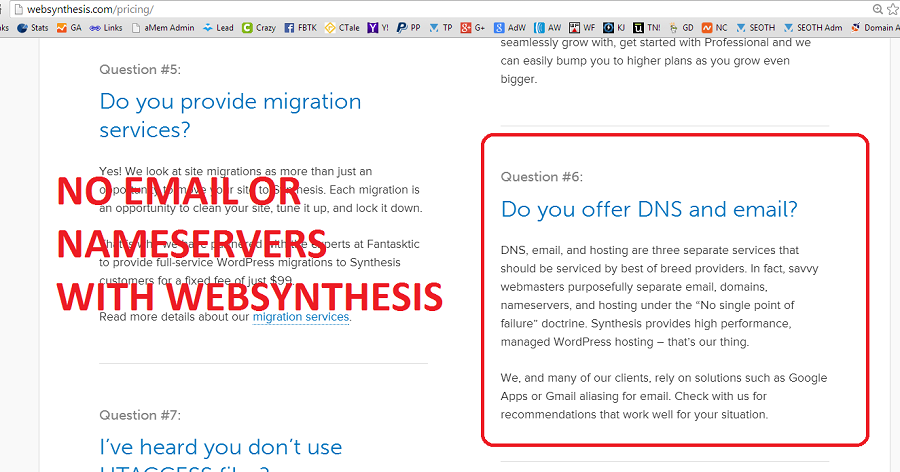 Now let's move on to the detailed speed tests of these hosting companies in Part 2 of this hosting shootout:

http://trafficplanet.com/index.php?/topic/7972-why-you-should-never-ever-use-these-hosting-companies-for-money-sites-part-2/

Visit Traffic Planet Hosting here:

https://trafficplanethosting.com/