Welcome to the TrafficPlanet.com

Classified Ad information page
Classified Ad Rules
(Please Read BEFORE Classified Ad Submission)
You will need to have been a member for 30 days and have 20 QUALITY POSTS......If you do not meet these qualifications your thread will not be approved.
1. Classified advertisers (and buyers) are expected to conduct themselves in a professional, responsive and helpful manner.
All Classifieds MUST have a clear Refund Policy at the bottom of their Sales Letter before they will be allowed to go live.
Any Classifieds featuring a kind of 'Make Money Online' product or program MUST provide video proof of earnings from use of the product or program - not from sales of the product or program itself.
Contact advertising(at)trafficplanet.com if that is unclear.
2. If you have a product or service that you think will be of interest to our community of backlinkers and Web entrepreneurs here, please submit your classified post to advertising(at)trafficplanet.com and he will review its suitability.
3. To begin with, Classified Ads will be $29.95 per month.
Once your Classified Ad is approved, we will provide PayPal payment information and then your ad will go live shortly thereafter.
We try to go from submission to approval to payment to live within 24 hours of submission to advertising(at)trafficplanet.com
4. A Classified Ad here is a great opportunity to build a long-term customer base, develop good word-of-mouth promotion and even find potential future business partners.
As such, advertisers are expected to treat their customers well. Any who fail to do so will have their ads removed from here. In the same way, abusive and unreasonable conduct by customers will be dealt with in a similarly direct way by the forum moderators.
Let us know if you have any further questions.
Here are our most recent Traffic Stats from StatCounter:
Last 7 Days Traffic Stats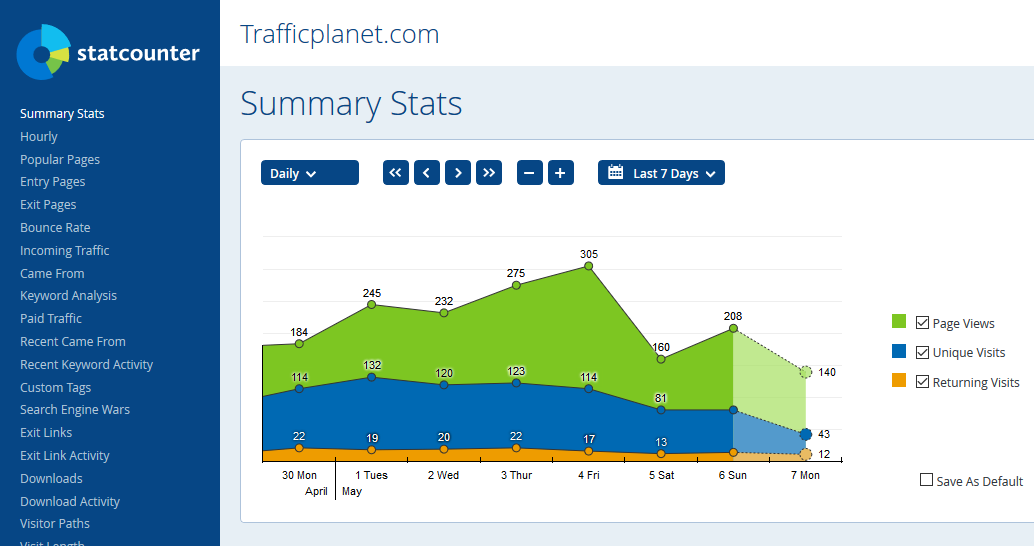 The Process:
(1) Create and test your service or product (obviously!)
(2) Write your Sales Copy (WITH Refund Policy clearly stated)
(3) Submit your Sales Copy to advertising(at)trafficplanet.com
(4) Support will approve it and provide you with a PayPal subscription link OR recommend changes that must be made
(5) Once paid, the ad will be moderated live shortly afterwards
NOTE: At this early stage, we do NOT have a pay-per-bump system in place for posts to be bumped to the top.
However, advertisers should NOT make junk posts just to push their ad back to the top or solicit others to make pointless posts to get an ad back to the top.
We are working on a 'Pay-Per-Bump' mod and will advise when that goes live.
Classified Ads are $29.95 Per Month

On PayPal Autobilling Subscription.
Company Name (if relevant):
VAT Number (if in EU):
To submit your Classified Ad for approval, please email advertising(at)trafficplanet.com, the Traffic Planet Ad Manager, via
advertising(at)trafficplanet.com

or

advertising(at)trafficplanet.com